Diaz Plastic Surgery Specialists: Michael Diaz, M.D
1513 South Harbor City Boulevard
Melbourne, FL 32901
Phone: (321) 951-2639
Monday - Friday: 9 a.m.–5 p.m.

Mommy Makeover Before & After Case 33
*Keep in mind that each patient is unique and your results may vary.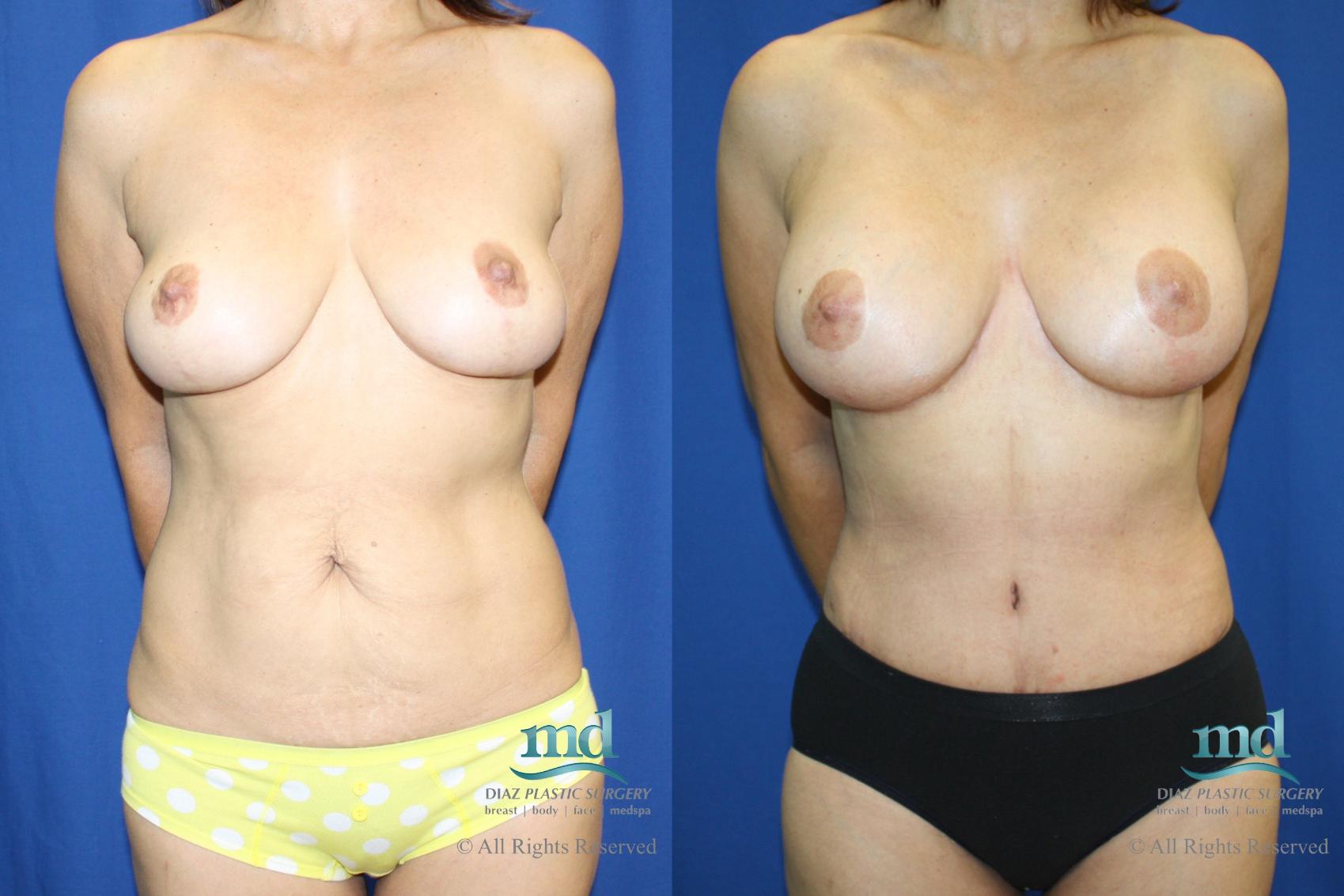 Before & After

This 53 year-old business professional had previously undergone a bilateral breast reduction. With time and after the birth of her children she wanted to re-establish the cleavage of that she had when she was younger. She also wanted to tighten an flatten her her abdomen and hip rolls. Because of her previous breast surgery she knew the importance of seeking a mommy makeover specialist who also had experience with breast revision surgery. After searching for Orlando plastic surgery, she sought consultation with Michael Diaz, MD, Melbourne Fl plastic surgeon.
During her consultation, Dr. Diaz reviewed her medical history and her previous breast surgery. He performed a detailed physical examination. There was more breast tissue below the nipple than above with some recurrent sagging. She was also found to have loose abdominal skin with a separation of her rectus muscles which led to looseness and roundness of her tummy. She also had some pockets of fat in her love handles.
Dr. Diaz explained compassionately that despite her petite frame and leading a healthy lifestyle, the changes that she wanted to reverse were due to aging and pregnancy. No amount of diet and exercise or sit-ups would reverse these changes. A customized surgical plan was created. Dr. Diaz recommended a breast augmentation breast lift and a tummy tuck with liposuction. She tried on some implants and desired only a small amount of volume. Dr. Diaz recommended low profile implants which would improve the upper pole without making her excessively large. The skin would be retightened to bring her breasts into harmony. A tummy tuck and liposuction of the flanks would be performed as well. Although she was a candidate for silicone gel gummy bear style implants, she instead chose saline implants.
During her procedure Dr. Diaz placed 175 cc low profile smooth round saline implants in the dual-plane sub muscular pocket and filled them to 195cc. The breast skin was retightened to complete the breast lift. During her tummy tuck the muscles were brought together using a corset repair. Liposuction of the flanks/hip rolls improved the waistline.
She recovered well at home with frequent visits by Dr. Diaz and his staff. She resumed her activities and exercise routine. She is delighted with the youthful appearance of her breasts. She is very happy with her result and referred many friends and family. Take a look at her plastic surgery before and after pictures.
Back to Top