Diaz Plastic Surgery Specialists: Michael Diaz, M.D
1513 South Harbor City Boulevard
Melbourne, FL 32901
Phone: (321) 951-2639
Monday - Friday: 9 a.m.–5 p.m.

Tummy Tuck
For many men and women, a toned, flat abdomen epitomizes physical fitness. But even healthy, slim individuals can still struggle with excess abdominal skin or simply a soft, flabby appearance. Although this is more common in women who have been pregnant, the midsection is a common trouble spot for many people. A healthy diet and regular exercise can go a long way toward burning fat and improving muscle tone, but tummy tuck surgery is often the best option for removing excess skin and repairing separated abdominal muscles. Board-certified plastic surgeon Dr. Michael Diaz offers tummy tuck in Melbourne to people from Orlando, Viera, Palm Bay, and other cities in Brevard County, FL.
Tummy Tuck Before & After Photos
WARNING:
This feature contains nudity. Please click OK to confirm you are at least 18 years of age and are not offended by such material.
OK
Tummy Tuck Before & After Photos
Keep in mind that each patient is unique and your results may vary.
Keep in mind that each patient is unique and your results may vary.
Is Tummy Tuck Right for You?
Tummy tuck is an excellent procedure for reducing excessive abdominal skin and tightening the underlying muscles, too. However, not everyone bothered by their abdominal appearance is a good candidate for tummy tuck. For example, if your primary concern is localized fat, liposuction may be a better option. The best candidates for tummy tuck are people who:
Are frustrated by excess, lax abdominal skin
Have a protruding belly caused by separated abdominal muscles
Are generally healthy, free of conditions that could complicate surgery
Have reasonable expectations for their results
Are able to properly care for themselves after surgery
Dr. Michael Diaz
Board-Certified Plastic Surgeon
Board-certified plastic surgeon Dr. Michael Diaz has been serving the dynamic needs of Space Coast women and men for years. In addition to being an accomplished surgeon known for his warmth, Dr. Diaz holds a patent for a device that can help improve breast revision outcomes.
Meet Dr. Diaz


Your Tummy Tuck Consultation With Dr. Diaz
Dr. Diaz and his team pride themselves on their exceptional consultation process. As soon as you step through the door of our office near downtown Melbourne, our staff greets you warmly and guides you through the intake paperwork. Once you're completely checked in, you're led to your private consultation room where you'll be asked to change into one of our comfy cloth gowns. Dr. Diaz, assisted by one of his nurses, consults with you for at least 30 minutes. During this time, he'll evaluate your abdomen and talk to you about your primary concerns. He'll explain his surgical technique, and you'll work together to determine whether a tummy tuck is the best course of action for you."
At the end of your consultation, you'll get dressed and meet with our patient care coordinator. In this separate meeting, you'll discuss the specifics of your tummy tuck—scheduling, pricing, and other logistical details. We provide you with a written estimate of your surgery that you can bring home to consider.
What Are the Different Types of Tummy Tuck Procedures?
A tummy tuck is an extensive surgery that can—and should—be completely tailored to the needs of the patient. Dr. Diaz adjusts his specific surgical technique based on your desired results. Typically, tummy tuck surgery falls into 3 categories (see illustration):
Full tummy tuck is what most people think of when they think of the surgery. It uses a long horizontal incision placed low on the abdomen to access the underlying tissues. This, the most common approach to a tummy tuck, treats the full length of the abdomen. It also improves the shape and position of the navel.
Mini tummy tuck uses a shorter incision to improve "the pooch" area beneath the belly button, a common problem area.
Extended tummy tucks use a longer incision for more significant correction of the flanks. Other options include a circumferential incision for removing and lifting skin around the entire trunk, and the fleur de lis tummy tuck to address excess skin on the upper abdomen. These less common incision patterns are usually indicated for patients who have undergone a significant weight loss. Often, it's performed in conjunction with other lifting procedures.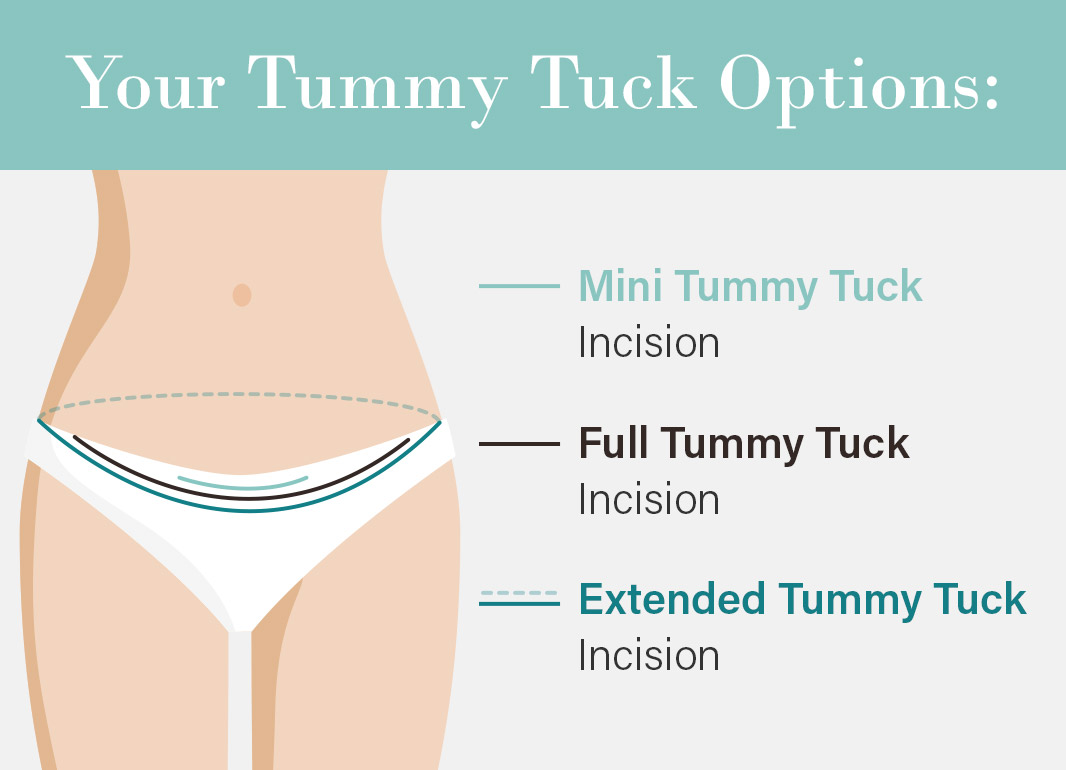 Your Tummy Tuck Surgery Day
Dr. Diaz performs tummy tuck surgery at Riverview Surgery Center, adjoining our office. In Melbourne, a tummy tuck usually requires general anesthesia, which means you'll be completely unconscious for the duration of your surgery. Dr. Diaz will ask you to bring in your favorite underwear or bikini bottom. Although scar placement cannot be guaranteed, he will use it as a guide. After you wake up in our comfortable recovery room, we'll briefly monitor you before clearing you to go home in the care of a friend or family member.
What Can I Expect After a Tummy Tuck?
Recuperation after tummy tuck can vary significantly from patient to patient and often differs depending on the specifics of surgery. During your initial consultation and throughout your planning process, Dr. Diaz keeps you informed of what you can expect.
The evening of your surgery, we send one of our excellent nurses to check in on you in your home. During this brief house call, your nurse evaluates you to ensure you're healing well and not experiencing any undue discomfort. You can also expect an in-office follow-up visit the day after your surgery.
It's important to gently move about your home or hotel room on the day of surgery, as this can prevent certain complications. However, listen to your body and don't overexert yourself.
How Painful Is Tummy Tuck Recovery?
During surgery, Dr. Diaz usually administers a local analgesic directly to your surgical site. Some patients may opt to have a longer lasting anesthetic called EXPAREL®, which can significantly reduce—and may even eliminate—the need for opiate pain medications after surgery. The pain-relieving effects of EXPAREL can last up to 3 days, while minimizing the physical side effects associated with opiates.
How Long Does It Take to Recover After a Tummy Tuck?
Most tummy tuck patients feel comfortable returning to work within about 10 days of surgery, although an extended recuperation may be necessary depending on the type of job you have.
Are Tummy Tuck Results Permanent?
Over time, your incisions will heal. With proper diet and exercise habits, your abdomen can look its best for years to come.
Let us help you to have the slimmer, flatter abdomen you want. Request your consultation online, or call Dr. Diaz's office at (321) 951-2639 to book your appointment.
A Reputation Built on Results
I wish I could give Dr. Diaz and his team 10 stars because that's what they deserve. I had a mommy makeover...
Dr.Diaz went above and beyond gave me my dream body at 31! I'm so happy I went with him his staff is...
I highly recommend what I call the "Amy Dream Team" with Amy Burton & Amy Limonte and the magic they...
Back to Top