Diaz Plastic Surgery Specialists: Michael Diaz, M.D
1513 South Harbor City Boulevard
Melbourne, FL 32901
Phone: (321) 951-2639
Monday - Friday: 9 a.m.–5 p.m.

Advanced Skincare Solutions
The Diaz Plastic Surgery Specialists Specialists Medspa in Melbourne, Florida near Orlando offers advanced skincare solutions for all skin types, ages and ethnicities. Each treatment plan is customized to meet your specific needs and to provide maximum benefits to help you achieve healthy and radiant skin.
Our medical director, Dr. Michael Diaz, is a highly respected cosmetic plastic surgeon. He and his team of licensed skin care specialists can provide a customized anti-aging and skincare treatment program with the most advanced skin care products to help you slow and reverse signs of aging. Here's a sample of the advanced skincare lines we carry:
Dr. Michael Diaz
Board-Certified Plastic Surgeon
Board-certified plastic surgeon Dr. Michael Diaz has been serving the dynamic needs of Space Coast women and men for years. In addition to being an accomplished surgeon known for his warmth, Dr. Diaz holds a patent for a device that can help improve breast revision outcomes.
Meet Dr. Diaz


In some cases, Dr. Diaz's team may recommend a smoothing agent such as Botox® or injectable fillers such as JUVÉDERM®, Restylane® or RADIESSE® in conjunction with your skin care plan to maximize anti-aging benefits. Enjoy all your medspa services in our warm, relaxing and confidential setting designed for maximum privacy and relaxation.
Find out how you can your improve your appearance with advanced skincare in Melbourne, Florida and the Central Florida, Orlando area. To schedule an appointment with one of our licensed skincare specialists, contact us online or call our office in Melbourne, Florida, at (321) 951-2639.
Advanced Skincare Solutions We Carry
Zo® Medical
ZO® Skin Health by Dr. Zein Obagi is the next generation of therapeutic skincare products and treatments. Diaz Plastic Surgery Specialists Specialists is the first retailer for ZO® Skin Health skincare products in Melbourne, FL.

---
Biopelle®– TENSAGE®
ABOUT THE STEM CELL PRODUCT LINE
As we age, the cells in our skin break down and the natural stem cells are less able to replace them. Even if we carefully avoid sunlight and other damaging conditions, this natural aging process will lead to the appearance of fine lines and wrinkles.
Tensage® Stem Cell Cream features CellPro™ Technology, a unique, natural ingredient extracted from the eggs of the Cryptomphalus aspersa snail in an exclusive, patented process, to help improve skin's appearance during the aging process.
ABOUT THE GROWTH FACTOR PRODUCT LINE
Tensage® Growth Factor features SCA Biorepair Technology, a special secretion from the Cryptomphalus aspersa snail, which contains growth factors combined with glycoproteins and antioxidants.
Tensage® is clinically proven to help improve the appearance of fine lines and wrinkles, increase elasticity and enhance texture, tone and luminosity. Tensage® has a complete line of products to help rejuvenate skin and reverse the visible signs of photo-damage.
Benefits of Tensage:
 firmer looking skin with renewed rejuvenation
smoothes the appearance of fine lines
softens the appearance of coarse wrinkles
helps skin damaged by photoaging
faster recovery of skin appearance following dermal procedures
 increased hydration for softer skin
---
Vitality Institute Medical Products
Vitality Institute Medical Products is the manufacturer of a cutting-edge line of pharmaceutical-grade products that reverse and prevent skin aging. The doctor who created VI Peel™ developed the original version to treat his teenage daughter's acne. Later, he designed more advanced peels using his breakthrough in the science of chemical peels. The VI Peel system treats a wide range of skin conditions, such as hyper-pigmentation, melasma, acne and premature aging, "aiming for true repair of the skin without hindering clients' fast-paced lifestyles."

Photos Courtesy of VI Peel™
Keep in mind that each patient is unique and your experience may vary.
---
EltaMD®
EltaMD® products are founded on the belief that "the responsible and innovative application of medical expertise and science will change the way physician-dispensed skin care products treat people." The EltaMD sun-care line includes a complete spectrum of sun-care products, one for every skin type, including the most sensitive. It offers true broad spectrum UVA/UVB protection.

---
VitaMedica®
VitaMedica® is a physician-formulated nutraceutical that supports recovery and wellness following surgery or non-invasive procedures.
---
bioCorneum+®
bioCorneum+® is an FDA-cleared, quick-drying, patented silicone gel that creates an invisible, breathable, flexible, waterproof barrier over scars. bioCorneum+ works by binding the skin's outer layer, called the stratum corneum, to protect the underlying skin and scar tissue. This moist environment allows the scar to mature through natural collagen synthesis, improving its texture and reducing its appearance. bioCorneum+ is uniquely formulated with SPF 30 to reduce the skin-darkening effects of sun exposure on scars.
Photos Courtesy of bioCorneum+®
Keep in mind that each patient is unique and your experience may vary.
---
Silagen®
The first and only comprehensive, physician-exclusive* line of medical grade silicone scar therapies.
Silicone Gel + SPF 30
Includes medical grade silicone + zinc oxide
No chemical sunscreens
Helps prevent UV-induced scar hyperpigmentation
Non-comedogenic and non-irritating
Ideal for exposed areas such as face, neck, chest, arms, hands
100% Pure Silicone Gel
Includes medical grade silicone
Faster drying than any other silicone gels
Soft Silky feel preferred by 98% of physicians surveyed
No extra potentially irritating ingredients
Available in two sizes: 15g and 30g
---
gloMinerals®
Glo Skin Beauty® skin nourishing, mineral makeup formulations enhance and protect even the most sensitive skin. With a variety of formula and finish options and an exceptional shade gallery.   gloMinerals® makeup is uniquely formulated using the industry's most trusted pharmaceutical-grade ingredients while excluding traditional compounds that can irritate skin, including perfumes, chemical dyes, and talc. The minerals used in gloMinerals are triple-milled, a process that ensures continuous, even coverage that lasts all day. Each application of gloMinerals delivers powerful environmental protection with an antioxidant blend of vitamins A, C, and E, plus green tea extract. Titanium dioxide and zinc oxide provide effective physical UVA and UVB sun barriers. gloMinerals products are suitable for even the most sensitive skin, and their anti-inflammatory ingredients make them ideal for use after a chemical peel or laser procedure.  Glo Skin Beauty products are never tested on animals and the award-winning mineral makeup line is
We offer makeup lessons, special occasion makeup application, and complimentary color matching. Give us a call at (321) 951-2639 to set up your gloMinerals makeup consultation today.
Photos Courtesy of gloMinerals®
Keep in mind that each patient is unique and your experience may vary.
---
Dermesse™
Dermesse™ is a leading manufacturer of both prescription and non-prescription skincare formulas to target common dermatological concerns. Dermesse™ products use meaningful concentrations of clinically validated ingredients. They are valued by patients and skincare professionals the world over.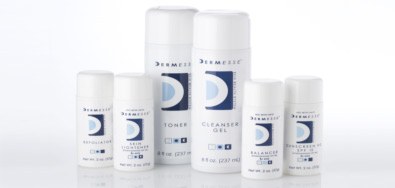 ---
In addition to our extensive line of skin care products and peels, we offer permanent makeup, brow shaping and other waxing services.
Dr. Michael Diaz and his team of specialists approach every aesthetic enhancement with compassion and care, revealing your unique beauty. To find out which skincare treatment can best improve your appearance, request a consultation online or call our office in Melbourne, Florida, at (321) 951-2639.
Back to Top