Diaz Plastic Surgery Specialists: Michael Diaz, M.D
1513 South Harbor City Boulevard
Melbourne, FL 32901
Phone: (321) 951-2639
Monday - Friday: 9 a.m.–5 p.m.

Tummy Tuck Before & After Case 18
*Keep in mind that each patient is unique and your results may vary.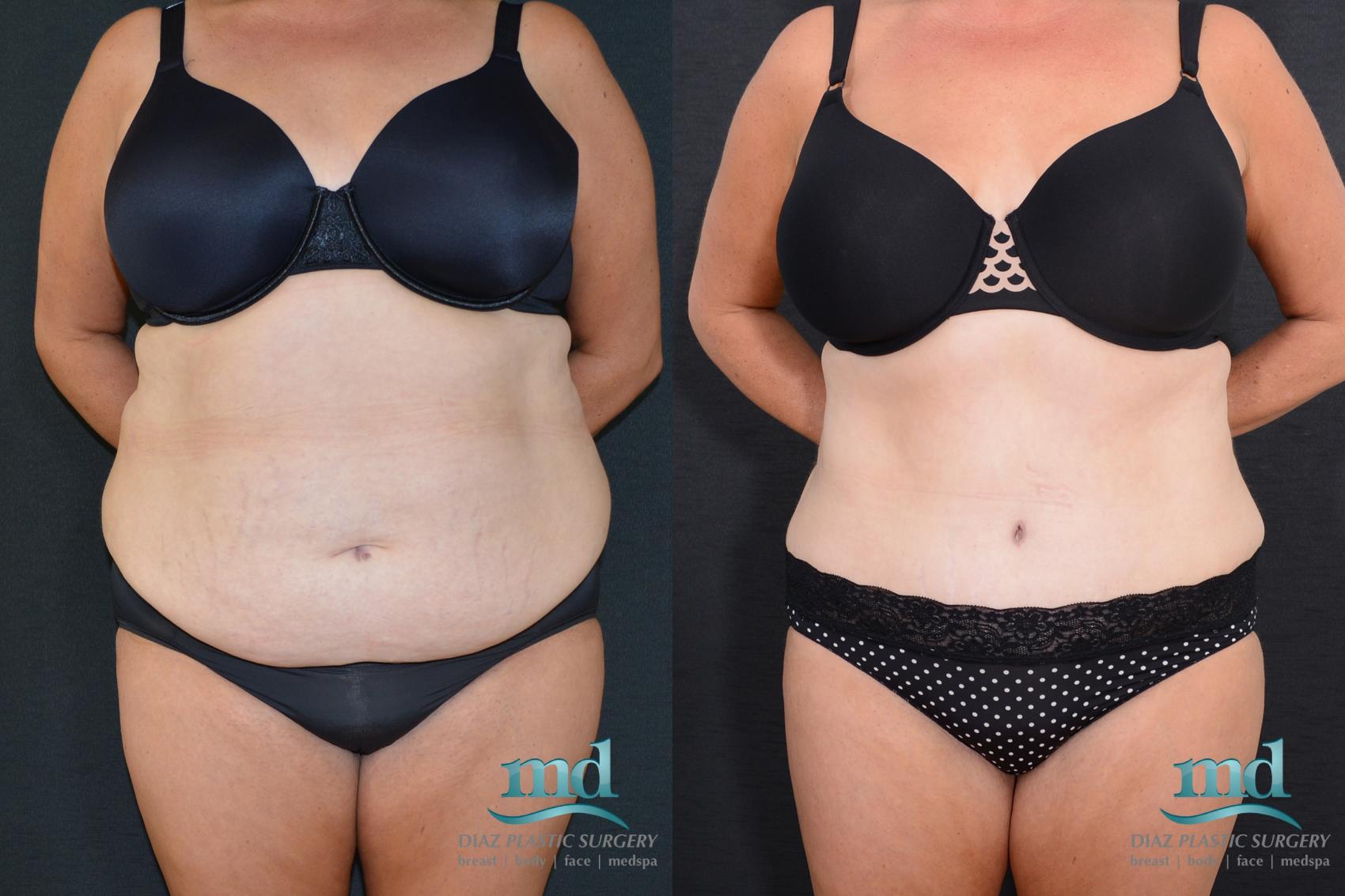 Before & After

Despite leading a healthy lifestyle, this 40 year old mother was unable to achieve the contours of her abdomen that she desired. She sought body contouring improvement through a tummy tuck and liposuction. Having cosmetic surgery and choosing the right plastic surgeon was very important to her. She came to Dr. Michael Diaz in Melbourne, FL through a recommendation of her friend, a previous patient of who had similar findings treated successfully by Dr. Diaz
She met with Dr. Diaz a Breast, Body and Face specialist serving patients in Orlando and the Central Florida areas. He performed a detailed evaluation and recommended she have liposuction of the back and flanks in conjunction with a tummy tuck. He assured her she was an ideal candidate for the combined procedures and the recovery time would be the same for both. She was very impressed with how detailed Dr. Diaz was with his examination and explanation of the procedures. She felt like he truly listened to all her concerns and wishes.
Dr. Diaz employed the SAFE-Lipo® technique. Dr. Diaz is Melbourne, Florida's first and only plastic surgeon to offer this innovative technique. Safe-Lipo® is a technique originated by Dr. Simeon Wall of Shreveport, Louisiana as a method to improve contours by reducing fat. It is a comprehensive body reshaping technique, combining the benefits of liposuction, fat shifting, and fat grafting. This technique avoids the thermal damage to skin layer that can be caused by ultrasound or laser techniques.
SAFE-Lip® is an acronym for fat Separation, Aspiration, and Fat Equalization:
Separation – loosens the fat cells without generating heat
Aspiration – fat cells are gently removed through suction, while avoiding damaging supporting structures such as nerves, blood vessels, skin.
Fat Equalization – helps prevent contour deformities by leaving behind a uniform thin layer of fat grafts when indicated.
While all surgical procedures including SAFE-Lipo® carry inherent risk, Dr. Diaz and his patients have been very enthusiastic about the results it offers.
Her surgery went well and she recovered nicely. She was very grateful for the level of attention and dedication by Dr. Diaz and our entire staff. Everyone made her feel as part of the family. She has gone on to lose addtional weight after her surgery. Here are her thoughts of how this procedure changed her life:
"I cannot thank you enough for all the confidence you have given me. I just got back from vacation and felt so comfortable in my swimsuit for the first time ever! I had never worn a two piece before my tummy tuck and I lived in two pieces the entire vacation. I even felt comfortable enough to dance in a bathing suit! You have touched my heart and soul by allowing me to feel sexy at 40 after having my kids. Thank you for this special gift."
Procedures Performed
About This Patient
View All Patient Photos
Back to Top