Diaz Plastic Surgery Specialists: Michael Diaz, M.D
1513 South Harbor City Boulevard
Melbourne, FL 32901
Phone: (321) 951-2639
Monday - Friday: 9 a.m.–5 p.m.

Mommy Makeover Before & After Case 34
*Keep in mind that each patient is unique and your results may vary.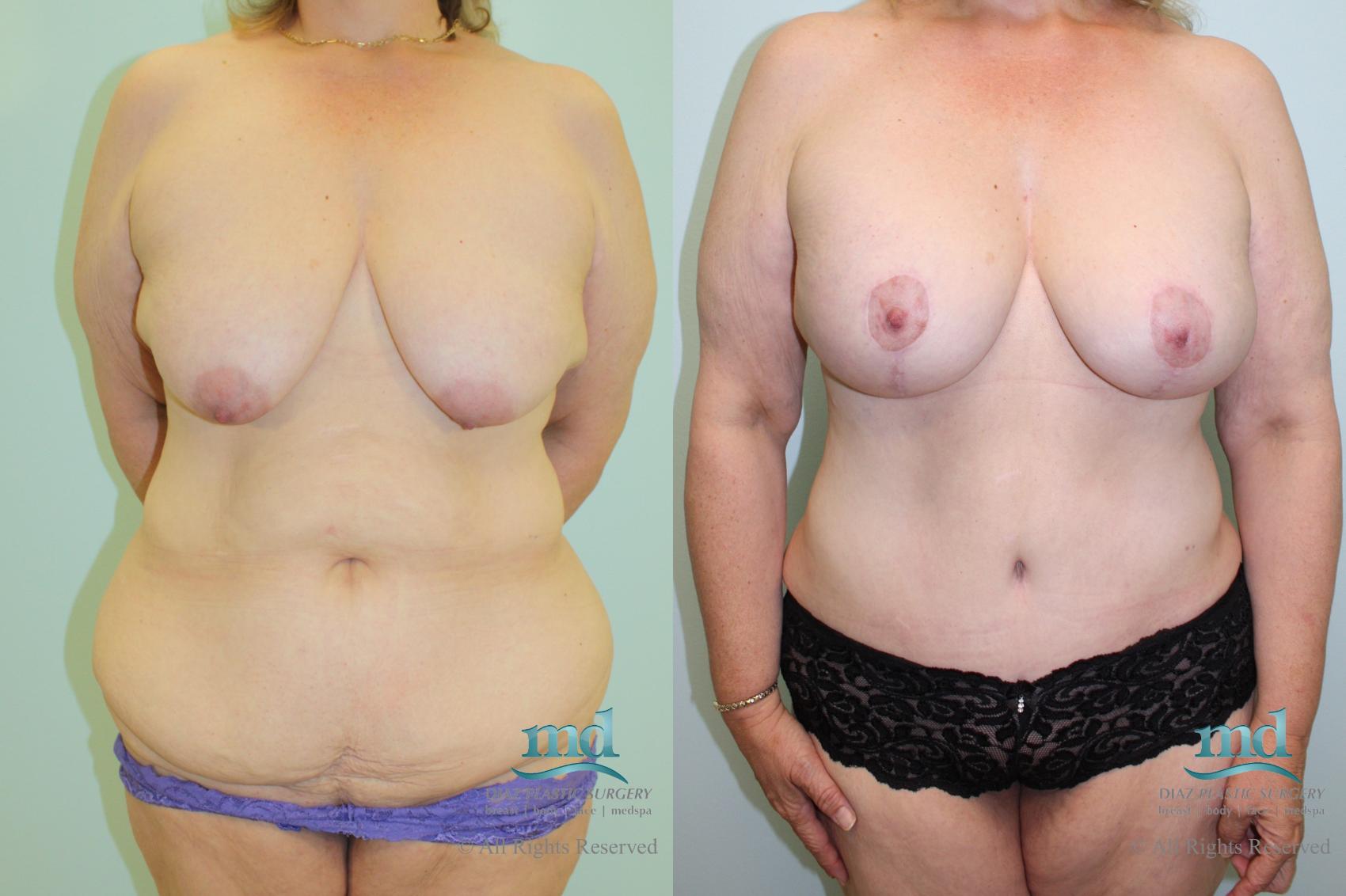 Before & After

As a result of a lengthy incapacitating illness, this 47 year old woman gained an excessive amount of weight. After recovering she was able to lose in excess of 100 pounds through diet and exercise. Her weight remained stable and she felt great. However she developed the typical changes following massive weight loss with empty sagging breasts and loose bunched up skin of the abdomen. Despite a healthy lifestyle and exercise regimen, she was not able to get the body that she worked so hard for. She wore a D-cup bra, mostly to take up all of the loose breast skin. She wanted to remain about the same size but fill the bra with perkier breasts and more cleavage. She also wanted to have a tighter and flatter abdomen. Her search for a plastic surgeon who specializes in massive weight loss surgery brought her to Michael Diaz, MD, Melbourne Fl plastic surgeon.
During her consultation Dr. Diaz reviewed her medical history and performed a detailed examination. Dr. Diaz listened carefully so that his surgical plan could meet her goals and desires. She was able to try on implants which gave Dr. Diaz a better understanding of the volume she desired. Dr. Diaz explained that the changes she wanted to reverse were similar to those created by pregnancy and weight loss, so a mommy makeover customized to meet her wishes was developed. Dr. Diaz recommended a breast augmentation breast lift and a tummy tuck.
Her surgery was performed in an accredited outpatient surgical facility. Dr Diaz placed 371 cc smooth round silicone gel gummy bear style implants under the muscle in the dual plane pocket. Moderate implants were selected to provide more upper fill without making the breasts excessively large. The breast lift was performed to reposition the nipples and provide a perkier appearance. The abdomen was also improved with a tummy tuck using a 2 layer corset repair to help flatten the abdomen and narrow the waist. She recovered at home quickly. She was seen frequently in the office by Dr. Diaz and staff until her wounds were healed and she resumed her typical activities.
She loves her new look and shape. She currently wears a D cup bra only now it is filled and snug. She loves her new curves and especially when wearing tight jeans. No more muffin top! She has returned several times for other surgical procedures as she continues her journey of self-restoration and satisfaction. Below are her plastic surgery before and after pictures at 6 months. Click here to see before and after pictures at 3 years.
Back to Top