Diaz Plastic Surgery Specialists: Michael Diaz, M.D
1513 South Harbor City Boulevard
Melbourne, FL 32901
Phone: (321) 951-2639
Monday - Friday: 9 a.m.–5 p.m.

Breast Augmentation
There are many different reasons women undergo breast augmentation (a "boob job") in our Melbourne, Florida, facility. Some have naturally undersized breasts, asymmetrical breasts, or breasts that have changed as the result of pregnancy. Board-certified plastic surgeon Dr. Michael Diaz is one of the Space Coast's most trusted practitioners, offering breast augmentation patients from Orlando, St. Cloud, Viera, Palm Bay, and throughout Brevard County the latest options in an environment of warmth and trust. If you're considering breast augmentation, Dr. Diaz can give you the natural-looking, personalized results you're seeking.
Breast Augmentation Before & After Photos
WARNING:
This feature contains nudity. Please click OK to confirm you are at least 18 years of age and are not offended by such material.
OK
Breast Augmentation Before & After Photos
Keep in mind that each patient is unique and your results may vary.
Keep in mind that each patient is unique and your results may vary.
What Is Breast Augmentation Surgery?
Breast augmentation, also called breast enlargement or a boob job, is one of the most popular plastic surgery procedures with women in Florida and througout the country. The surgery involves increasing breast size by placing a breast implant inside the body behind the natural breast tissue.
Is Breast Augmentation Right for You?
Breast augmentation with Dr. Diaz can be tailored to each patient's precise specifications, making it suitable for a wide variety of women. It's important that you be in overall good health before undergoing the procedure. You should also be at a comfortable weight that's easy for you to maintain. If you're a smoker, you should be willing to quit at least several weeks before surgery.
Breast augmentation can achieve the following goals:
Enlarge naturally small breasts
Improve the shape of breasts
Restore volume after pregnancy and breastfeeding
Even out asymmetrical breasts
Can Breast Augmentation Be Combined With Other Procedures?
If you're bothered by the position of your breasts, you may choose to undergo breast lift–either on its own or as a companion to your breast augmentation. Another more comprehensive option is the popular mommy makeover, which typically pairs breast enhancement with a tummy tuck or liposuction or other body contouring or rejuvenating procedures.
Dr. Michael Diaz
Board-Certified Plastic Surgeon
Board-certified plastic surgeon Dr. Michael Diaz has been serving the dynamic needs of Space Coast women and men for years. In addition to being an accomplished surgeon known for his warmth, Dr. Diaz holds a patent for a device that can help improve breast revision outcomes.
Meet Dr. Diaz


Your Consultation With Dr. Diaz
Your breast augmentation journey begins with a consultation with Dr. Diaz in our beautiful office near downtown Melbourne. Our attentive office staff greets you and walks you through the necessary intake paperwork. A member of our staff quickly brings you to a private consultation room, where you'll be asked to change into a soft, knee-length cloth robe—no paper hospital gowns here!
Along with one of his friendly nurses, Dr. Diaz will meet with you for at least 30 minutes. During this time, Dr. Diaz takes extensive measurements and discusses possible incisions, implant placement, and breast implant options. Unlike many other practices, we carry a large inventory of breast implants here at our Melbourne facility, allowing you to see and feel them prior to your surgery. It's our goal to make you feel as comfortable as possible during this important appointment.
After your discussion with the doctor, it's time to get dressed and meet with our patient care coordinator to discuss scheduling, financing, and other details of your surgery. You may choose to book your breast augmentation during this appointment or head home to think about it.
How Do I Choose the Right Size Breast Implant?
Potentially the most important factor when planning your breast augmentation, size is so much more than a number. We recommend bringing photos of breasts you like to your consultation. Having a visual aid can help Dr. Diaz accurately estimate the size of your ideal implants. Remember that cup size is not an accurate measurement for breast implants since it isn't standardized across bra manufacturers. When you consider the size you'd like, think about your lifestyle, your favorite activities, and the clothes you like to wear (or would like to wear).
Are Round or Teardrop (Shaped) Implants Better?
Implants are available in both round and "shaped" versions (see illustration). This choice depends on your anatomy and cosmetic goals.
Round implants are dome-shaped and often recommended for women who want a voluptuous result with more cleavage.
Shaped implants are sometimes called "teardrop" shape because they're tapered at the top, like a teardrop. These mimic the slope of natural breasts. Shaped implants are typically good choices for women who want more subtle fullness.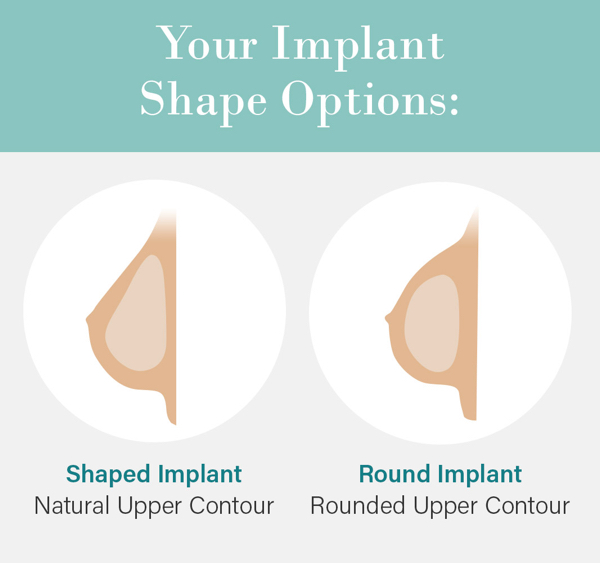 How Do I Choose Between Silicone and Saline Implants?
All FDA-approved implants have silicone shells filled with either saline or silicone gel. Silicone implants are the more popular option thanks to their more natural look and feel, but plenty of patients prefer the saline option. Dr. Diaz helps you decide during your consultation.
How Do I Choose an Implant Profile?
Think of an implant's profile as its projection from the body. Breast implants are available in high-, medium-, and low-profile varieties. The appropriate profile for you depends largely on your frame. High-profile implants tend to have narrower bases, making them a good option for small-framed women. Low-profile implants have wider bases and may be a good choice for women with wider proportions.
Is It Better to Have Breast Implants Placed Over or Under the Muscle?
Implants can be placed either under the chest muscle (pectoralis) or immediately behind the breast glandular tissue (over the muscle). Most commonly, implants are placed under the muscle (called submuscular placement), especially when the patient has very little existing breast tissue. This placement typically results in a more natural-looking result and offers other benefits which Dr. Diaz will go over.
Which Incision Is Best for Breast Augmentation?
Dr. Diaz most commonly uses the inframammary incision to place implants. This horizontal incision is made along the natural crease of the breast and is nearly invisible once healed. Less commonly, Dr. Diaz may recommend an incision made around your areola or in your armpit (see illustration).
Your Breast Augmentation Surgery Day
Breast augmentation is an outpatient surgery that we perform right next door at our Riverview Surgery Center. This impeccably maintained facility is staffed by our own board-certified anesthesiologists and accomplished surgical staff, ensuring your safety and comfort from start to finish. You're completely asleep for the duration of your surgery; once you're awake and have been observed for a short period, you're free to head home in the care of a trusted friend or family member.
What to Expect After Breast Augmentation Surgery
We're very proud of our thorough post-op care protocol, which includes a phone from Dr. Diaz that evening. For patients having a mommy makeover one of our clinical nurses may visit you in your home (or your hotel room if you are visiting from out of town) to ensure you're feeling good and recovering well. We also schedule an in-office follow-up visit the day after your surgery so you can be evaluated by Dr. Diaz. In the following weeks, you'll be in our office for further follow ups. Most of the time your body absorbs the sutures that are placed beneath the skin and do not require removal.
How Long Is Recovery From a Breast Augmentation?
Dr. Diaz's meticulous techniques ensure that most patients have swift, comfortable recuperations. Our breast augmentation patients are typically back to work within 1 week of surgery. In the following weeks, you may safely return to more physically demanding activities and exercise as directed by Dr. Diaz.
It may take a few months for the tissues to soften and for the implants to assume a more natural shape and position. Throughout the entire process, you can rest assured knowing our team is simply a phone call away.
Is Breast Enhancement Surgery Safe?
When performed by a board-certified plastic surgeon who uses FDA-approved breast implants on a qualified patient, breast enhancement surgery is safe. Complications can be minimized after surgery by closely following your surgeon's recovery instructions.
How Long Do Breast Augmentation Results Last?
In the long term, your beautiful new breasts have the potential to last for well over a decade.
We can't wait to be your partners in beauty. Request your consultation online or call our office at (321) 951-2639 to speak with a friendly, knowledgeable member of our staff.
A Reputation Built on Results
When I decided to have some repairs made due to weight loss, I contacted the office of Dr Diaz, and...
I wish I could give Dr. Diaz and his team 10 stars because that's what they deserve. I had a mommy makeover...
Dr.Diaz went above and beyond gave me my dream body at 31! I'm so happy I went with him his staff is...
Back to Top